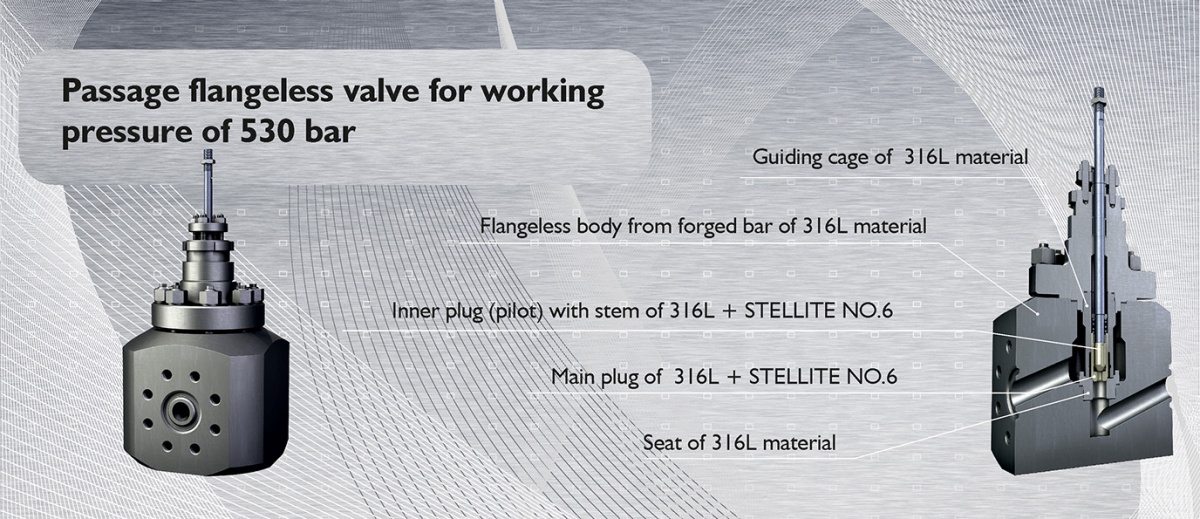 All parts of 316L steel and counter flanges of X2CrNiMoN22-5-3 1.4462 (DUPLEX) material are used in this valve.
Due to the occurrence of working pressures of 530 bar, the valves were manufactured for nominal pressure PN630 in accordance with BN-91 1771-20/40.
The seal between the valve body and counter flanges is designed on BX 150 seals conforming to API 6A class 15000.
The valves have a guaranteed V class plug/socket closure class V at a full pressure drop of 530 bar, therefore the medium inflow is directed over the plug (FTC).
The difference in pressure over and under the plug during closing causes additional pressure and tightening of the system. In order to reduce the required dispositional force of the actuator, the plug is pressure-relieved by the internal plug, the so-called pilot. The pilot was selected in such a way that the force needed to open it was 7 times lower than of the main plug. After opening the pilot, the pressures above and below the main plug equalize and further opening in order to achieve full flow does not require more actuator's dispositional force.
To prevent wear of internal parts caused by very high flow rate of liquid carbon dioxide, the plugs, sockets, and guide bushings are made with a full stellite coating of 45 HRC hardness.
The valves are equipped with pneumatic actuators, solenoid valves for control and open/closed position indicators.
The presented mixers were designed and manufactured for the Institute of Artificial Fertilizers in Zakłady Azotowe in Puławy.
Please watch a short animation presenting the described construction: