Research and Development Centre
Aiming at continuous development of our products, improvement of existing structures and responding to the market needs of providing advanced construction solutions in a short time, it was decided to spin off a separate research and development centre from the company's structures.
The support obtained from the EU funds from the Operational Programme for the Podkarpackie Voivodeship for 2014-2020 made it possible to equip the centre with the highest quality software and to build a research station for high operating parameters.
The actions taken will allow us to effectively compete with the largest manufacturers of industrial valves, both in the context of technical advancement of our solutions, as well as the time and cost of their development.
Our employees have many years of experience in designing industrial valves, as well as in advanced finite element method (FEM) analyses. Owing to the purchased software, we are able to perform all the analyses necessary to confirm the functionality of the product and allowing for defining and eliminating adverse phenomena occurring during operation of the installation.
SOFTWARE: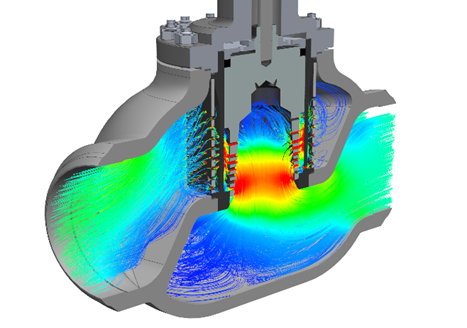 CAD – Siemens NX – advanced product geometry design
CAE – Siemens NX SimCenter

Finite element method (FEM) calculations, static and fatigue strength
Computational Fluid Dynamics (CFD) calculations
CD ADAPCO STAR CCM+ – calculations:

multiphase flows (e.g. gas mixtures, liquid-gas)
acoustics
cavitation
erosion

HEEDS – a system for multi-criteria optimization of phenomena
PLM/PDM – Siemens TeamCenter – product documentation management system
FLOW TESTING STATION:
valve sizes: DN 15 – 25
pressure drops: Δp: 1 – 349 bar
media: air, water (ambient temperature)
recording of all test parameters